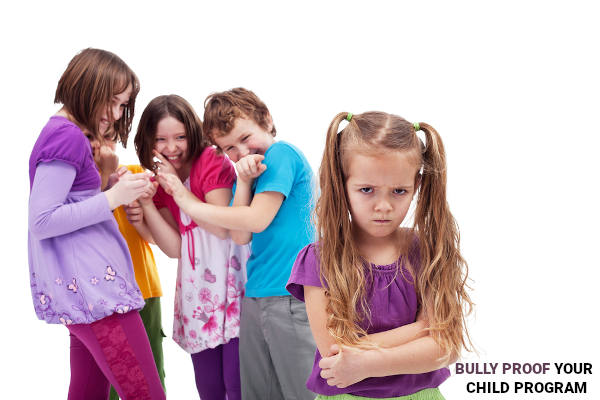 Take the first step in bully proofing your child. Download the free 4 Steps to Bully Proof Your Child Quickly Guide.
People always ask me, can you bullyproof your child? And the answer is yes, you can.  Running the largest verbal self-defense website in the world, we have families reach out to us for help when their kids are being picked on by their classmates.
The purpose of using verbal self-defense is not to raise a child who goes around saying unkind things. It's to help a child who's getting picked on by their peers set some limits, and to say back off with quick wit and a comeback.
Once kids who have been targeted by a bully have learned some verbal self-defense techniques, the bullying usually stops.
Watch our FREE WORKSHOP and learn how to bully proof your child.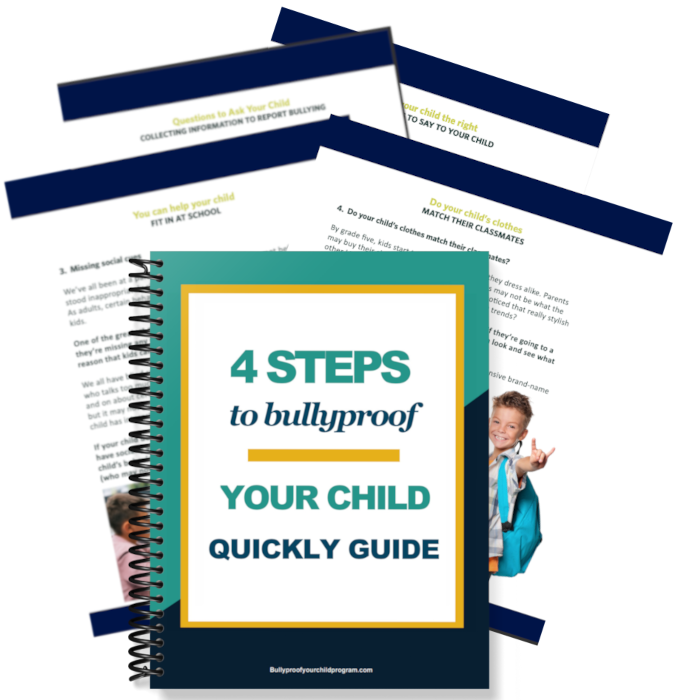 STOP YOUR CHILD FROM BEING A BULLY MAGNET
Do you worry about your child being picked on? Our Bullyproof Your Child Quickly Guide will show you how to bullyproof your child in just 4 simple steps. The guide includes our letter to the school template. It's a game changer–get it free for a limited time!
Bullies target kids who don't respond
Bullies like to target kids who don't respond. Bullies aren't interested in children who give clever and funny responses.
If you were going to pick on somebody, who would you pick on a kid who just takes it or the funniest person in the class that will slay you with his words in two seconds?
It's pretty obvious people target people that won't respond.
People don't like to pick on others who will show them up and make them look foolish.
All kids have something they can be teased about
The truth is we are all going to get teased a little bit throughout our childhood.
Where it gets tricky, is if your child becomes specifically targeted, and a group of kids starts picking on your child daily. And that's when it gets harder to undo and turn the situation around.
If a child is an easy mark and just takes being picked on, the bully may encourage other kids to join in and gang up on your kid.
The best thing to do is nip it in the bud as soon as possible.
It is important to let your child have a voice and verbally defend themselves. Telling your child to ignore it and not say anything back is like putting a target on their back.
We all have something that we can be teased about that is different about us. Maybe we are short or too tall, or a little overweight.
Now, most people aren't born with verbal self-defense or quick wit, but it is something that can be easily taught. And it's an amazing tool that stops kids from being targeted and publicly humiliated.
The key is not to be too aggressive, and have an appropriate tone. With verbal self-defense you need to know what to say and how to say it. If your child needs some help with verbal self-defense our programs can help them out.
Kids who know what today, become more confident, and they stop being targeted.
Learn how to protect your chid from bullies quickly with our FREE TRAINING video. This class is perfect for parents of kids (6 – 12) who want to prevent or stop their child being targeted by bullies.
More posts you may like
Got any comments, questions or tips about how comebacks can stop bullying? Share them in the comments below.