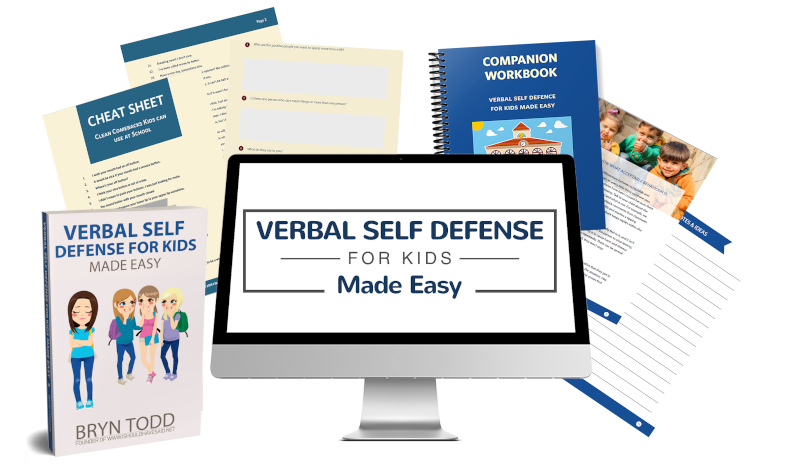 VERBAL SELF DEFENSE FOR KIDS MADE EASY
Learn the tactics confident kids use to shut down bullies with clever comebacks and assertive language. This verbal self defense program for kids includes the book Verbal Self Defense for Kids Made Easy , a workbooK, and cheat sheets with clean comebacks that kids can use at school.. Discover the traits that bullies target, and how you can set your child up not to be a victim.
BULLY PROOF YOUR CHILD IN JUST 2 WEEKS
The The Bully Proof Your Child in Just 2 Weeks course focuses primarily on giving your child the skills that they need to feel empowered, confident and knowing how to handle teasing and different social situations. Feel confident knowing that your child isn't an easy target for bullies. We'll share exactly what behaviour to tweak so your child isn't singled out by other kids. Also includes our game-changing Verbal Self Defense for Kids Made Easy bundle. We will share the most common bully slurs and amazing comebacks that render bullies speechless. Your child will be more confident and assertive in no time!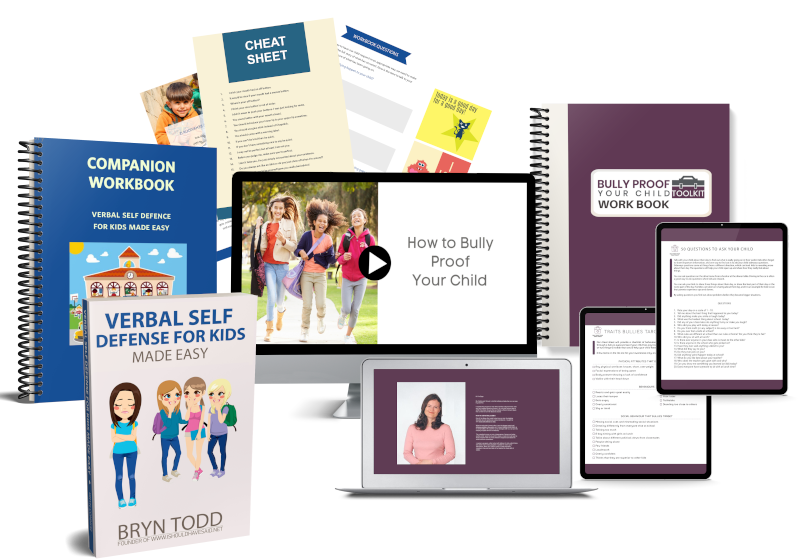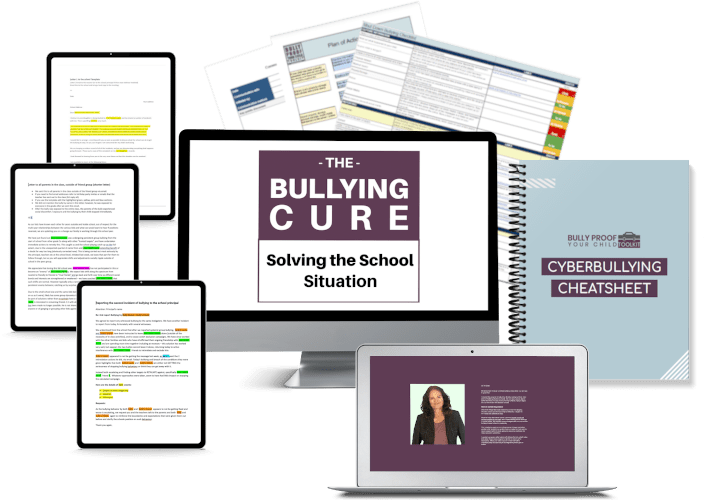 THE BULLYING CURE: SOLVING THE SCHOOL SITUATION
Learn the strategies & resources that you can use to communicate with the school to put an end to the bullying quickly. A proven process to follow with letter templates, our step by step checklists, plan of action and cheatsheets that will guide you every step of the way.
Also Includes:
How to keep your child safe at school.
An interview with a clinical psychologist answering parents most common questions about supporting your child through bullying.

Learn w

hen it's time to consider changing schools

.

What's crucial to know before your child changes schools.

Everything you need to know about cyberbullying. Our cheatsheet will walk you through all the steps you need to take.
Book a 1:1 Coaching Call with Bryn
If you need help with a bullying situation or dealing with a difficult relative, book a one on one call with Bryn.